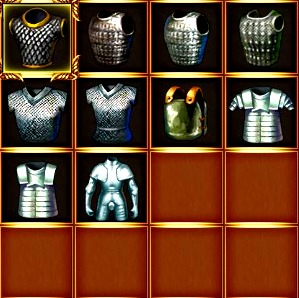 Armors are the second highest priority item when it comes to fighting campaign enemies.
Armors provide defense against normal attacks which is at minimum half of the attacks you receive in the campaign. Siege heroes use 100% normal attacks and Gambit heroes use normal attacks until 100 morale, in which they use their gambit attack, thus depleting their morale and resuming normal attacks.
Armors come in all qualities like other equipment. For starters, you will want to get 2-4 of the Dragon Bone Plate armor (req lvl 21) in the 2nd campaign, Holy Crusades.
Blue quality armors drop from a plentiful amount of Legions and Elites once you reach Transylvania, Norman Conquest and Hundred Years War campaigns.
Make sure to upgrade your armor second to your offensive equipment (weapons, mounts, staffs).
List of armors
Edit
Common (White)
Edit
Increase defence per level: +8
These Armors can be obtained through the Armory.
Uncommon (Green)
Edit
Increase defence per level: +10
Rare (Blue)
Edit
Increase defence per level: +12
Epic (Purple)
Edit
Increase defence per level: +15
Legendary (Orange)
Edit
Increase defence per level: +20
| Armor Name | Required Level | Base | Dropped By |
| --- | --- | --- | --- |
| Ares Armor | 72 | 83 | Agamemnon (Hellenic Offensive) |
| King's Ramparts | 80 | 103 | Seti I (Desert Menace), Elite Main Force IV (Norse Warriors) |
| Maximilian Armor | 86 | 113 | Elite Right Wing II (Norse Warriors), Ishtar, Shamhat (Ancient Epic), Elite Main Force VII, Medb (Ulster Cycle), Elite Vanguard I, The Dragon (Heroic Epic Poem) |
| Wigar | 92 | 123 | Elite Right Wing I, Elite Main Force III (Isle of Demigods), Elite Main Force III (Ancient Epic), Elite Main Force VIII (Ulster Cycle), King Hrothgar, Elite Main Force IV (Heroic Epic Poem) |
Artifact (Red)
Edit
Increase defence per level: +23
Eternal (Turquoise/Cyan)
Edit
Increase defence per level: +29
| Armor Name | Required Level | Base | Dropped By |
| --- | --- | --- | --- |
| Inquisitor's Breastplate | 105 | 1050 | ? (1 before Atahualpa) (New World) |