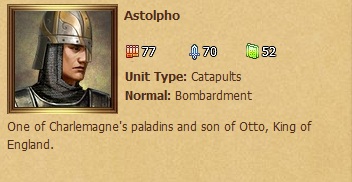 Astolpho is the first Charlemagne kingdom prestige hero and requires 2,000 prestige to unlock.
Unit Type - Catapults: High Critical Strike Chance. Attack - Bombardment: Deal High normal damage to a single target.
Astolpho is an amazing early-mid hero and is still a great unit late game. Catapults have the highest and most reliable single target damage output in the game. His Bravery is moderately high and will not appear lacking for a long time. Paired with his High Critical Strike chance, he'll take enemies down surprisingly fast.
A great set up is Rickon, Saladin and Astolpho for the first 30-50 levels, you'll eventually take Rickon and Saladin out for better siege/gambit heroes while Astolpho remains a valid option at all times.