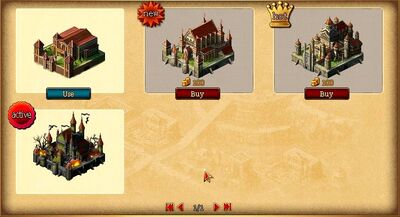 You can buy new castles:
New: Aristocrats Castle: Buy for 100 gold
A wealthy Aristocrats Castle Show off your wealth and status.
Hot: Kings Castle: Buy for 100 gold
A castle built by Kings of old. It's a symbol of greatness across the land.
Limited Offer: Haunted Castle: Buy for 200 gold
A castle fit for Ghost King. Scare everyone with this Hallowen Castle. Available for purchase until 2011-11-17.
Ad blocker interference detected!
Wikia is a free-to-use site that makes money from advertising. We have a modified experience for viewers using ad blockers

Wikia is not accessible if you've made further modifications. Remove the custom ad blocker rule(s) and the page will load as expected.