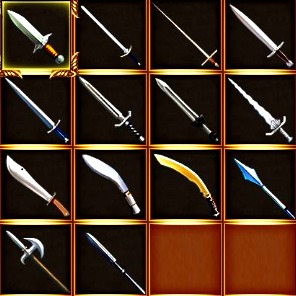 Weapons are the single largest factor in a siege heroes strength. Weapons boost Normal damage and should be kept up as a top priority for Siege heroes.
Most players that use Gambit heroes rely on strategies to fill up their gambit heroes morale quickly, so they often don't equip weapons to gambit heroes as upgrading a Mount and Weapon for each hero is far too costly. This has a negative side effect tho, for when your gambits no longer have the moral to gambit each turn, they hit like wet noodles! 
Casters who block, such as Khufu, should also have a weapon equiped as well. Block damage is based off the Blockers normal damage output, so an equipped weapon would be handy if you want to do damage to an attacker in this manner.
Remember, a wasted turn is a turn you give to your enemy. Any edge over you a player can get, they will exploit.
Always aim for the highest quality weapon available to you. Never neglect your offense!
The best Weapons drop from campaign enemies and Legions. Here is a following list of weapons by rarity.
List of Weapons
Edit
Common WeaponsEdit
Growth per Level: 10
These Weapons can be obtained from the Armory.
Uncommon WeaponsEdit
Growth per Level: 13
Rare Weapons Edit
Growth per Level: 16
¹ Nomad Bow is given as reward for completing the Viking Invasion campaign
Epic WeaponsEdit
Growth per Level: 20
² Joyeuse is given as reward for completing the Hundred Years' War campaign
³ Dyrnwyn is given as reward for completing the Desert Menace campaign
Legendary WeaponsEdit
Growth per Level: 24
Artifact WeaponsEdit
Growth per Level: 28
Subcategories
This category has only the following subcategory.
Pages in category "Weapon"
The following 57 pages are in this category, out of 57 total.
A

B

C

D

E

F

G

H

J

L

L cont.

M

N

R

S

T

W

Y
Ad blocker interference detected!
Wikia is a free-to-use site that makes money from advertising. We have a modified experience for viewers using ad blockers

Wikia is not accessible if you've made further modifications. Remove the custom ad blocker rule(s) and the page will load as expected.