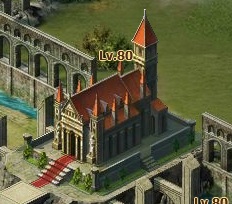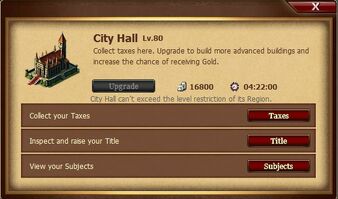 The City Hall is the core structure in a player's city. This structure determines the level limits of your heroes and other structures. There is nothing, neither buildings nor heroes, may higher than your Hall. New structures are unlocked at certain City Hall levels. Each region limits your City Hall to a certain level, which means if you want to upgrade even further you need to unlock and move to a higher level regions
City Hall Unlocks
Edit
This is a chart displaying what buildings and features you get at each City Hall level and what these buildings/features generally do.
Feel free to include or correct with accurate information if known. To be continued....
Ad blocker interference detected!
Wikia is a free-to-use site that makes money from advertising. We have a modified experience for viewers using ad blockers

Wikia is not accessible if you've made further modifications. Remove the custom ad blocker rule(s) and the page will load as expected.