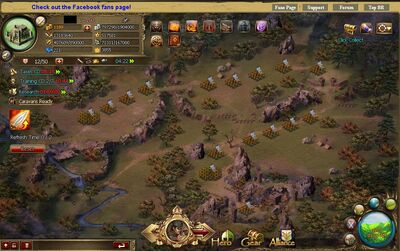 Dark Sherwood forest is the first Elite Map in Chronicles of Merlin.It is accessible for players of level 100 or adove.It is avaible since version 1.4.5 It contains the following armies:
14 Elite Armies

2 Elite Legions
List of Armies
Edit
Dark Outpost I (Level 100)
Dark Outpost II (Level 102)
Dark Vanguard I (Level 110)
Dark Outpost III (Level 104)
Dark Vanguard II (Level 110)
Dark Outpost IV (Level 106)
Dark Main Force I (Level 111)
Dark Outpost V (Level 108)
Dark Main Force II (Level 111)

Dark Legion (Level 110)

Reward: ATK/DEF +10% (Must drop)

Dark Main Force III (Level 112)
Dark Main Force IV (Level 114)
Dark Main Force V (Level 115)
Dark Main Force VI (Level 118)
Dark Legion (Level 120)

Dark Robin Hood (Level 120)

Reward: White Chest (Must drop)
If not otherwise noted, the reward for a victory is a White Chest (possible)
The Legions in the Elite Map are different than in the regular Campaign. Only one player fights against them, and there's two Elite Armies inside them. When the player defeats both of them, this is a victory against the legion.
Equipment
Edit
Attack/Defense Boost +10% - First Dark Legion
White Chest (must drop) - Dark Robin Hood
White Chest (possible) - All other armies
Ad blocker interference detected!
Wikia is a free-to-use site that makes money from advertising. We have a modified experience for viewers using ad blockers

Wikia is not accessible if you've made further modifications. Remove the custom ad blocker rule(s) and the page will load as expected.