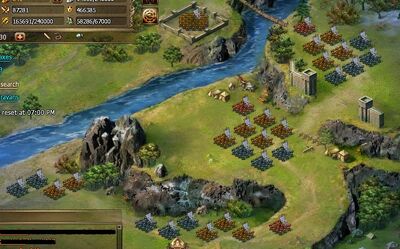 The Golden Horde Campaign is the 6th Main Campaign and the 9th Campaign in terms of difficulty. Defeating Genghis Khan allows access to level 80 regions. It contains the following:
12 Normal Armies
9 Elite Armies
5 Non-Recruitable Bosses
3 Recruitable Bosses
Total 29 armies
Golden Horde Legion
Upon completion, Kassel Plantation will be unlocked in the World Interface.
List of Armies
Edit
Outpost I - Level 49
Outpost II - Level 50
Elite Outpost I - Level 51
Ogedei Khan - Level 50
Vanguard I - Level 51
Vanguard II - Level 52
Vanguard III - Level 53
Elite Vanguard I - Level 52
Elite Vanguard II - Level 53
Subutai - Level 54
Jebe - Level 55

jebe

Left Wing I - Level 54
Left Wing II - Level 55
Left Wing III - Level 56
Elite Left Wing I - Level 55
Elite Left Wing II - Level 56
Elite Left Wing III - Level 57
Elite Left Wing IV - Level 58
Chilaun - Level 59
Jochi - Level 59 (Very Good Heroe)

Main Force I - Level 57
Main Force II - Level 58
Main Force III - Level 59
Main Force IV - Level 60
Elite Main Force I - Level 60 (Reward: Uncommon Weapon)
Elite Main Force II - Level 61 (Reward: Uncommon Weapon)
Muqali - Level 62 (Reward: Rare Weapon)
Tolui - Level 63 (Reward: Legendary Weapon)
Genghis Khan - Level 62 (Very Good Heroe)
The Golden Horde Legion contains the 11 strongest enemies raised to level ~62 (Reward: Epic Armor)
Confirm which army is 11th and replace this line.
Ogedei Khan
Subutai
Chilaun
Elite Main Force 1-2 (I,II)
Muqali
Tolui
Equipment
Edit
Golden Horde Campaign Equipment Drops