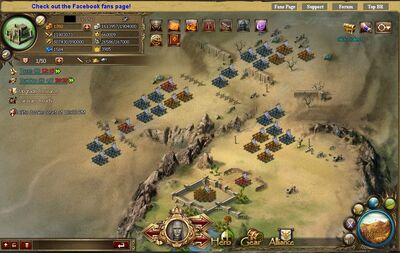 The Holy Crusades is the second Campaign in Chronicles of Merlin. Defeating Baldwin IV allows you to choose and kingdom by moving to one of the level 30 regions. It contains the following:
16 Normal Armies
6 Elite Armies
4 Non-Recruitable Bosses
3 Recruitable Bosses
Total 29 Armies
Holy Crusades Legion
Upon completion, Borlange Plantation will be unlocked in the World Interface.
List Of Armies
Edit
Outpost I - Level 8
Outpost II - Level 9
Outpost III - Level 10
Elite Outpost 1 - Level 10
Saladin - Level 10
Vanguard I - Level 10
Vanguard II - Level 11
Vanguard III - Level 12
Vanguard IV - Level 13
Elite Vanguard I - Level 12
Philip II Augustus - Level 14
Richard the Lionheart - Level 15
Left Wing I - Level 13
Left Wing II - Level 14
Left Wing III - Level 15
Left Wing IV - Level 16
Left Wing V - Level 17
Elite Left Wing I - Level 15
Elite Left Wing II - Level 16
Friedrich I Von Staufen - Level 17
Main Force I - Level 17
Main Force II - Level 18
Main Force III - Level 19
Main Force IV - Level 20
Elite Main Force I - Level 17
Elite Main Force II - Level 18 (Reward:Satin Cloak)
Roger de Moulins - Level 19 (Reward:Gold Lance)
Odo de St Amand - Level 20 (Reward:Dragon Bone Plate)
Baldwin IV of Jerusalem - Level 20
Holy Crusades Legion contains the 6 strongest armies raised to level 22 (Reward: Uncommon Weapon)
Elite Main Force 1-2 (I, II)
Equipment
Edit
Holy Crusades Campaign Equipment Drops