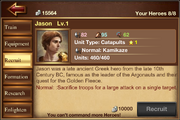 Jason was a late ancient Greek hero from the late 10th Century,famous as the leader of the Argonauts and their quest for the Golden Fleece.
Normal: Kamikaze: Sacrifice troops for a large attack on a single target.
Pros
Huge damage
High critical strike rate
Hard to counter by gambit heroes
Cons
Lose a percent of his current units with every attack
Low magic
Ad blocker interference detected!
Wikia is a free-to-use site that makes money from advertising. We have a modified experience for viewers using ad blockers

Wikia is not accessible if you've made further modifications. Remove the custom ad blocker rule(s) and the page will load as expected.