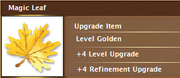 The Magic Leaf is an upgrading tool. It is very dificult to find since its specific location varies randomly. Once found, however, it significantly accelerates the upgrading of your gear.
It's typically found in the enchanted forest behind the Feudal Lands. Level 81 is required to use it.
It is believed to be found only by those using the pc interface.
Ad blocker interference detected!
Wikia is a free-to-use site that makes money from advertising. We have a modified experience for viewers using ad blockers

Wikia is not accessible if you've made further modifications. Remove the custom ad blocker rule(s) and the page will load as expected.