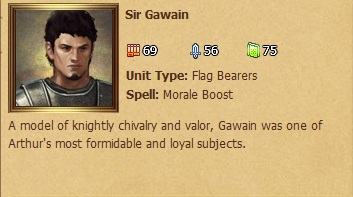 Sir Gawain is a King Arthur prestige hero and requires 43,000 prestige to unlock.
Unit Type - Flag Bearers: Generate morale for your team and reduce enemy teams morale each turn. Spell - Morale Boost: Generate 34 morale for your gambit heroes while taking away 5 morale from enemy gambit heroes.
Initial status is bravery 69, tactics 56 and magic 75 and unit count is 380.
Sir Gawain has similar stats to Joan of Arc and William the Conquerer. He has more units than either of those 2 heroes. It is slightly more beneficial to use Sir Gawain over William or Joan but ultimately makes little difference.