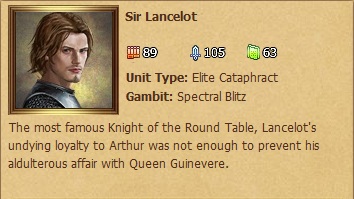 Sir Lancelot is a King Arthur prestige hero and requires 450,000 prestige to unlock.
Unit Type - Elite Cataphract: Reduced damage taken.
Gambit - Spectral Blitz: Deal Gambit and Spell damage to a target and the targets 1 space to the left, right and behind it. The magic damage portion of his gambit attack bypasses Entrench.
Sir Lancelot is a stronger version of Sir Balin and Titus with a higher Unit Count and Growth, Bravery, Tactics and Magic stats. While he is an "Elite" unit, there is no known differences between Elites and non-Elites. It most likely refers to his higher base stats and unit growth.
Like Sir Balin and Titus, you want to equip him with the best Mount AND Enchanted Item you can get your hands on. You'll also want to enlighten his Tactics and Magic stat primarily, Bravery takes 3rd place for him.
It is confirmed that Spectral Blitz can be dodged by opponents.
Proof: Third Spectral Blitz was dodged in this fight by opponent in Oblique formation. http://s15.cm.koramgame.com//report/Sbc76ed2e228e20244ef32f66cc09788843ff10b0 Sir Lancelot's attack pattern