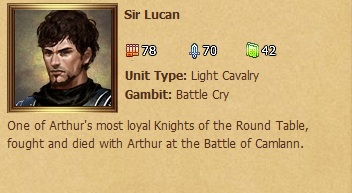 Sir Lucan is a King Arthur hero and requires 9,000 prestige to unlock.
Unit Type - Light Cavalry: High Dodge Rate. Gambit - Battle Cry: Deal gambit damage to a single target and lower all enemy morale by 30
Unfortunately, his gambit is Battle Cry. This gambit attacks a single target for moderate gambit damage and lowers all enemy morale by 30. Since it is only a single target attack, it is one of the least offensive gambit attacks in the game. The effect of draining morale is easily countered in PvP by a couple of flag bearers since his gambit attack is not always going to be unleashed every turn.
He might work well if you pair him with the Wedge formation (Increased Chance to Dodge). His base stats are noteworthy for an early game hero at 78 Bravery and 70 Tactics.